PHOTOS: Grape vines grow in B.C.'s beautiful Okanagan Valley, one of the prime wine producing regions of the world (Photo: Kelowna Wine & Cuisine Flickr, Creative Commons). Below: Alberta Premier Rachel Notley, B.C. Premier John Horgan, and Alberta Opposition Leader Jason Kenney.
With Alberta's Sour Grapes Strategy, the official boycott of wine from British Columbia announced by the NDP Government yesterday, I guess we've seen the end of the appeal to social license. That sure didn't last long!
Who knows, maybe Alberta Premier Rachel Notley has just handed her B.C. counterpart, John Horgan, an opportunity to win some seats in the solidly conservative Okanagan region of the province to the west of us.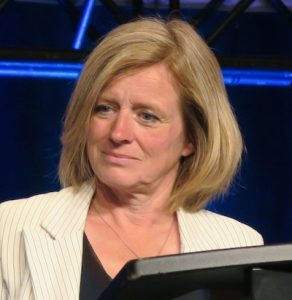 Premier Notley's apparent effort to channel Jason Kenney with the bizarre idea of a province-wide boycott of B.C. wine to punish the NDP Government in that province for trying to listen to overwhelming public opposition on the West Coast to pipelines full of diluted bitumen from Alberta is sure to have plenty of unintended consequences. Why not that one too?
I don't know about you, dear readers, but I'm not opposed to the occasional boycott. I'm still drinking Tim Hortons coffee, mind you, but I haven't shopped in a Wal-Mart for decades. Still, I'm a little uncomfortable with the idea of someone else – even a politician I'm generally inclined to support – deciding for me what I'm going to boycott.
I'll make that decision, thank you very much.
This is especially so when it comes to a government that's just been self-righteously celebrating a victory in another attempted trade war with the other nearby province by filing an appeal to an interprovincial trade agreement.
As argued here not so very long ago, the B.C. Government's Constitutional case for imposing limits on the amount of diluted bitumen that can be shipped in pipelines through its territory seems weaker than Alberta's arguments against it, but it is not completely without merit since both levels of government in our federation have responsibility for environmental stewardship.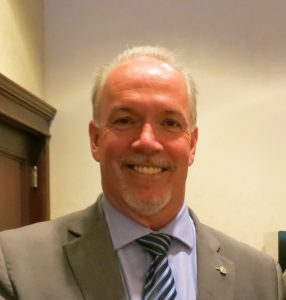 The constitutional case against a boycott of a product from another province would seem more clear-cut, and not at all in Alberta's favour. What's more, Alberta is as out to lunch as Saskatchewan was in the Great Licence Plate War as far as the rules of the New West Partnership Trade Agreement go.
Well, you say, so what? Something's got to be done to get our bitumen to tidewater! Fair enough, but speaking of unintended consequences, I suspect this kind of Trumpian, Kenneyesque nonsense will have the effect of stiffening Mr. Horgan's spine – and if not his, then those of his supporters and their Green allies.
B.C. NDP opposition to the Kinder Morgan Trans-Mountain Pipeline expansion project always seemed half hearted – propelled by the fact opposition to the line is nearing consensus on the Lower Mainland, including among large numbers of conservative British Columbians, and the need to keep his government from collapsing by giving a little ground to the B.C. Greens, whose three MLAs are propping up the NDP. (Sorry I said there were four of them in an earlier post. My bad!)
I bet you Mr. Horgan's government would have dropped its opposition to this project, just as it abandoned its promise to pull the plug on the controversial Site C Dam megaproject on the Peace River, if only Alberta or the disengaged and disinterested Trudeau Government could have given him a way to save face. Call this "social license" if you will.
Launching a war on B.C.'s wine industry will, of course, do the opposite. The fact it's a constitutionally questionable tactic hardly strengthens Alberta's demands that B.C. honour our interpretation of the constitution and drop its plans without the court fight it's entitled to.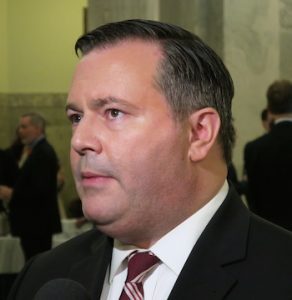 Indeed, Mr. Horgan would be entirely within his rights to pour emergency subsidies into the wine industry to defend it from Alberta's actions – perhaps even winning enough support in the heartland of the Bennett Social Credit Dynasty to snatch a riding or two for the NDP.
This, of course, presumes Mr. Horgan won't really upset the apple cart (another excellent product of the Okanagan Valley) and bring a little democratic reform to British Columbia – an outcome that would increase the likelihood of more Green political consciousness over time on the Coast, not less.
Meanwhile, as noted, in the short term, Alberta's Sour Grapes Strategy will strengthen opposition to pipelines in Coastal B.C. Coast and in the long run perhaps send B.C. down the road to becoming British Catalonia.
Mr. Kenney, the leader of Alberta's United Conservative Party, naturally supports this un-Notley-like nonsense. He knows he can boast the NDP got the idea from him – and not without some credibility. If by some miracle this nets a positive result – say, by forcing Ottawa to pay attention – he can claim the credit.
If it doesn't, he'll scream bloody murder, demand more of this foolishness, and say the NDP can't deliver.
He knows – as does Ms. Notley – that a failure to achieve visible progress in the year remaining before an election could be fatal to the government's re-election hopes. I suspect he also understands he'd have no more success with B.C. than Premier Notley is having, but he'll cross that bridge another day.
Finally, Mr. Kenney also surely understands the fact the NDP is adopting his dumb approach is unlikely to cost the UCP a single vote. One has to ask, however, how many progressive voters would stay home on election day if they get they idea they're getting UCP policies anyway from the NDP, so why not deal with the real thing?
Well, the NDP seems to have concluded this kind of grandstanding is necessary for any chance of re-election. Maybe they're right and I'm wrong. They're doing good work on enough other files that I certainly hope so.
Most British Columbians will feel no pain from Alberta's effort, though, and with plenty of West Coast refineries south of the 49th Parallel ready to turn up the dial on production, there's not much else we can do to get our way that will make B.C. even notice.
While the impact for some wine producers may be dire, I suspect most British Columbians will think, "Your loss, dumb-asses," and get on with their lives. So what else is in our trade war tool kit? Boycotting Gala apples?
Personally, I won't be boycotting B.C. wine. Not, at least, until all members of Ms. Notley's cabinet are willing to give up their Okanagan retirement homes. This might even motivate me to make that summer drive through the region I've been pondering for the past dozen years or so. Xin-xin!*
* If you're wondering, that's Catalan for cheers.