PHOTOS: Len Bracko in his days as a St. Albert councillor at the site of the city's wetland park on the east shore of Big Lake. Below: Mr. Bracko helping to build homes for people in need abroad, and being congratulated for his victory in the 1993 provincial election by PC minister Dick Fowler, the candidate he defeated. The first two photos come from Mr. Bracko's Flickr page, the third from the St. Albert Gazette.

Len Bracko, respected St. Albert schoolteacher, Alberta Liberal MLA, former small-l liberal city councillor, and old-style community minded citizen, has died.
Mr. Bracko, widely remembered in this suburban city northwest of Edmonton for his courtesy, kindness and community service as well as for his useful and effective connections at all levels of government and in all parties, retired from active politics in 2013. He died at his home in Parksville, B.C. He was 74.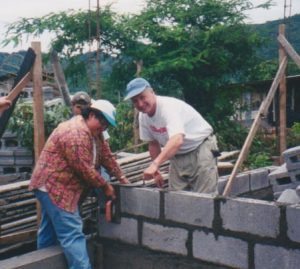 Even so, Mr. Bracko appeared before city council as recently as 2016, to try to nudge councillors in the direction of seeking federal funds to help develop an LRT connection from Edmonton to St. Albert. He had been a proponent of extending Edmonton's LRT system to St. Albert while on council.
Neil Korotash, a former St. Albert city councillor, described Mr. Bracko as his friend and mentor. "He was truly an inspiration and one of the kindest men I knew."
"Len was an intelligent, gentle and inspiring leader," said St. Albert NDP MLA Marie Renaud in a Tweet.
"St. Albert has lost a true gentleman and a passionate advocate for our community," former St. Albert Progressive Conservative MLA Stephen Khan said on social media.
"Len Bracko was the very model of a public servant," said Alberta Liberal Leader David Khan in a statement last night. "While Alberta is the worse for having lost him, it is all the better for having had him and the example he has set."
"Len was a quiet gentle man who always had the city and his friends in his heart," observed Kevin Malinowski, moderator of the St. Albert Poliwings community political discussion group on Facebook.
Many more similar tributes can be found on social media tonight.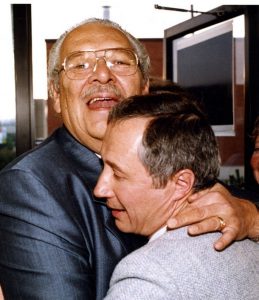 Mr. Bracko, who had been a junior high and high school social studies teacher, ran for the Alberta Liberal Party in 1989 and was defeated by Dick Fowler, the community's former mayor, who would become the PC minister of justice.
Soon after his defeat, Mr. Bracko ran for council and was elected, but stepped aside at the end of his three-year term to run again for the Alberta Liberals in the 1993 general election. That election turned out to be the modern high tide of the Liberal Party under the leadership of Laurence Decore, a victory that included Mr. Bracko in the 32-seat Liberal Opposition. After knocking off the high-profile Mr. Fowler, he served as Opposition municipal affairs critic.
In the 1997 provincial election, Mr. Bracko lost to PC Mary O'Neill by 16 votes – so don't ever let anyone tell you your vote doesn't matter! He tried again for the Liberals in 2001, but lost by a wider margin.
Rather than mope about it, Mr. Bracko ran for council again later in 2001, and was re-elected in 2004, 2007 and 2010.
Judging the time was right to step aside, he decided not to seek re-election in 2013 – although, had he run, he certainly would have been re-elected with ease. After all, basically everyone in the community knew who he was and respected him.
However, he did run as an Independent in the PC Government's silly and partisan "Senate nominee election" in 2012. Despite travelling throughout Alberta to campaign, Mr. Bracko never missed a city council meeting.
When the NDP's campaign took off before the 2015 general election, Mr. Bracko reminded St. Albertans of all political stripes that it's important to be able to work with a government led by any party, partisan feelings notwithstanding. "St. Albert is the toughest riding in Alberta," he noted then, pointing out that no party has held the seat for more than two elections over the past 40 years.
Mr. Bracko's charitable work went farther afield than just St. Albert. He and his wife Barb were active in Habitat for Humanity, and travelled to Tibet in 2002 to help build houses. Back in 1998, they rebuilt houses in Nicaragua destroyed by Hurricane Mitch.