PHOTOS: Jason Kenney … he's got some thoughts on education and we thought you might like to know what they are (CBC photo). Below: Alberta Education Minister David Eggen, Progress Alberta Executive Director Duncan Kinney and defiant Pastor Brian Coldwell of Parents for Choice in Education.
Where does Jason Kenney stand on important issues in education, including the rights of sexual minority students, "parents' rights," and funding?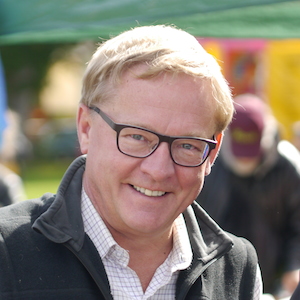 The views of the front-runner in the race to lead the Progressive Conservative Party are not entirely promising, but to give the man credit, at least he was prepared to say what he believes – albeit in a forum where he had reason to suspect his opinions would not be widely reported.
In a response to a questionnaire by Parents for Choice in Education, which describes itself as a "non-profit advocacy organization that believes in excellence in education through maximum parental choice," Mr. Kenney indicated his strong agreement with all the positions taken by the group referenced in its questionnaire. In response to the group's 11 questions, Mr. Kenney's answers indicated the two strongest levels of agreement, 1 or 2 on the five-point scale used by the group.
The questionnaire was sent to all four remaining candidates for the leadership of the PC Party, and the group said Mr. Kenney was the only one to respond. He is also the only one of the four whose plan is to wind up the affairs of the venerable political party and merge it with the Wildrose Opposition.
Since, in practice, Parents for Choice is an active and successful lobby for ever-higher government funding of private and charter schools plus home schooling, that suggests at least that each of the other candidates is uncomfortable with the positions taken by the group and didn't want to open themselves to attack by giving honest answers. We should also assume that Mr. Kenney's answers reflect his true beliefs.
Among his answers and accompanying commentary, Mr. Kenney indicated:
He supports allowing different approaches to curriculum in publicly funded schools, as well as different approaches to school clubs. He indicated the strongest level of agreement, 1.
Parental approval should be required for any instruction related to sex education, sexuality and gender identity, and parents should be allowed to pull their children out. 2.
Parental consent should be mandatory for a child's participation in all extra-curricular activities, including student organizations and clubs. 2.
Parental permission should be required for children to attend any event involving an outside facilitator or program. 2.
All materials and resources used by students in instruction or extra curricular activities should be made available to parents. 2.
Taxpayers should provide "equitable" funding for independent, religious, charter and alternative schools, plus all forms of home schooling. 1.
Alberta should reintroduce and strengthen standardized testing for Grades 3, 6 and 9 and continue such tests in Grade 12. 1.
Of course, in this context, references to school clubs mean the gay-straight alliances required under Alberta law passed by the province's last PC Government under premier Jim Prentice. Pastor Brian Coldwell, chair of the Independent Baptist Christian Education Society that has openly defied the legislation at two schools it runs in the Edmonton area, sits on the board of Parents for Choice.
Meanwhile, Globe and Mail reporter Carrie Tait on Friday continued to chronicle the financial goings on at Trinity Christian School Association, Wisdom Home Schooling Society of Alberta and other related entities that have been accused by the Alberta government of being part of a multimillion-dollar scheme to take public money intended for home schoolers and direct it to members of a family in rural Alberta.
Mr. Kenney was quick to jump to the defence of the two related organizations, which together used taxpayer money to oversee the educations of about a third of the province's home-schooled children, when provincial officials moved to withdraw funding and accreditation in late October.
He loudly complained that Trinity students' parents had been unfairly "blindsided" by the NDP government's effort to safeguard the public's money.
Ms. Tait's reporting is based on court documents filed when Trinity and Wisdom sought and got a temporary injunction in October preventing the government from completely shutting down the two organizations' operations. That case is due back in court on Jan. 5.
Ms. Tait reported Friday that the documents show provincial officials flagged financial and organizations problems with the private enterprises as long ago as 1997, but nothing was done for nearly two decades by various PC provincial governments.
"The government let things slide until this fall," Ms. Tait wrote.
The NDP Government, and especially Education Minister David Eggen, have taken a lot of heat for that decision, but Albertans should really ask themselves why things were left as they were for so long.
As Duncan Kinney, executive director of Progress Alberta, wrote in an opinion piece in the Globe and Mail Friday, it's "no fun to do the responsible thing and deal with a long-festering problem."
"Six Tory education ministers had the chance," he observed. "They all declined. It is worth asking why."
If Mr. Kenney had been the person appointing Alberta's cabinet, it sounds very much from his answers to Parents for Choice and other comments as if he and his education minister wouldn't have done anything either. That's something to keep in mind.
This post also appears on Rabble.ca.